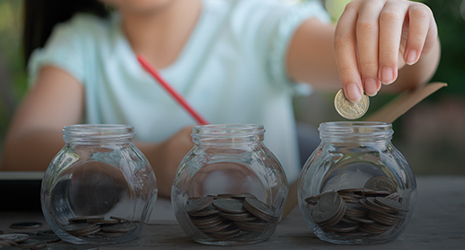 Financial illiteracy affects all ages and all socioeconomic levels and the lack of it may lead to poor financial choices that can have negative consequences on the all-round well-being of an individual. It can cause many people to become victims of predatory lending, fraud and high interest rates, resulting in bad credit or bankruptcy.
Dhan Gyan – a Financial Literacy program has been developed by Tata Capital jointly with Centre for Environmental Research and Education (CERE). The E-learning module provides comprehensive coverage of the National Financial Literacy Awareness Test (NFLAT) syllabus and goes beyond to also provide real-world financial skills.
The course covers the following areas:
SMART Financial Goals: This chapter discusses how to set and achieve financial goals in life

Budgeting: This chapter discusses how to properly plan income and expenditures to achieve financial goals

Insurance: This chapter discusses what is an insurance, need of an insurance, various types of insurances, and how to select an insurance

Investments: This chapter discusses how to grow your money, importance of investment, basic concepts of inflation, time value of money, simple interest and compound interest

Banking: This chapter discusses the basics of banking, ATM, Cheque book, Demand Draft, different types of bank account, and how to open a bank account

Borrowing: This chapter discusses what is a loan, different features of a loan, good loan vs. bad loan, and things one need to know before taking a loan

Stock Market: This chapter discusses basics of stocks, bonds, debentures, how stock market works, important terms related to stocks and stock markets, and things to know before investing in stock market

Investment Options: This chapter discusses about what is Mutual Fund and how it works, different types of mutual fund, how to invest in a mutual fund, things to know while investing in mutual fund

Retirement: This chapter discusses about retirement planning, and how to achieve a financially worry free retirement life
To mark International Women's Day, Society for Social Empowerment & Training held a session on "Empowering Women through Financial Literacy" for teaching & non – teaching staff of Institute of Distance and Open Learning (IDOL), Mumbai University.

A successful kick-off of "Dhangyan" a financial literacy program by Tata Capital for staff and students of IDOL, Mumbai University. Graced by @Dr. Madhura Kulkarni – Dy. Director IDOL, Dr. Santosh Rathod – IDOL, Ms. Radha Sule – Head Sustainability, Tata Capital.